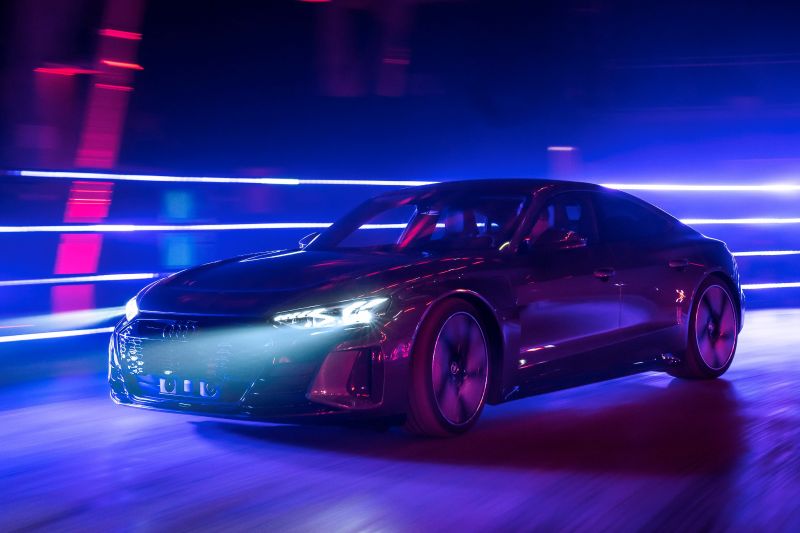 Within the hierarchy of the VW Group, Audi of course comes under Porsche, so all the performance parameters are slightly inferior to those of the Taycan, but by no means are they bad. On the contrary, the e-tron GT handles 0-to-100 km/h acceleration in an impressive 4.1 seconds, and the RS version in even just 3.3 seconds.
The configuration of two electric motors provides such performance, one on each axle (the rear motor having two-speed transmission). The total power of the weaker version is 350 kW and 630 Nm. And the RS reaches 440 kW and 830 Nm. With enabled Launch Control, power for 2.5 seconds even continues skyrocketing up to 390 kW and 475 kW for the RS!
The top speeds of 245 and 250 km/h aren't all that impressive. It pales in comparison to Tesla's S Plaid model topping out at 320 km/h. Tesla also demonstrates its technological superiority by acceleration to 100 km/h in a staggering 2.1 seconds. In this aspect, not even the more powerful RS e-tron version with acceleration in 3.3 seconds can compete.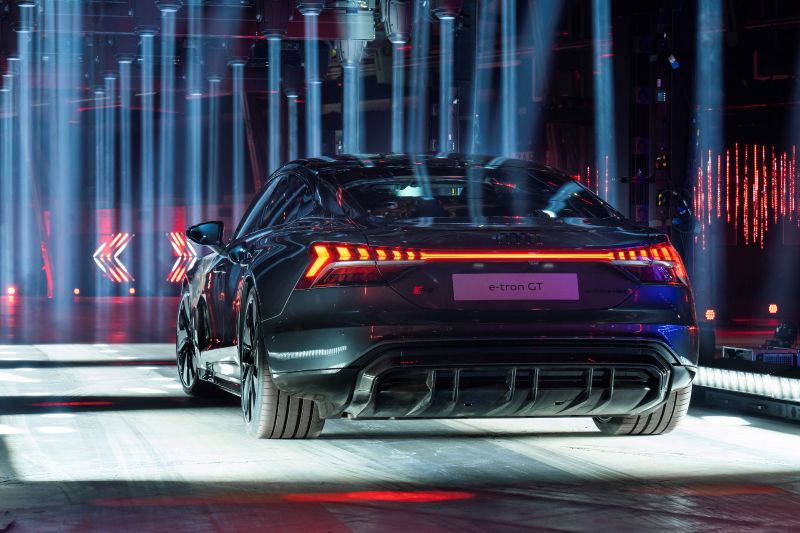 Thanks to the advanced 800V battery architecture, the e-tron GT has a fast-charge power of up to 270 kW, just like the Taycan. This means that it takes just five minutes to recharge for another 100 km of driving. Recharging from 5 % to 80 % takes 22 to 23 minutes. Its battery has nominal capacity of 93.4 kWh, of which 85 kWh is usable. It has a three-phase AC charger 11 kW (charges to 100 % in 9 hours), or for a surcharge there is a 22-kW version (100% charge in 4.5 hours).
The deceleration of large mass of this heavy, up to 2,300 kg vehicle, can be handled by one of its three brake systems, the best of which of course are the carbon-ceramic brakes with a diameter of 420 mm. Wheels can be up to 21-inch.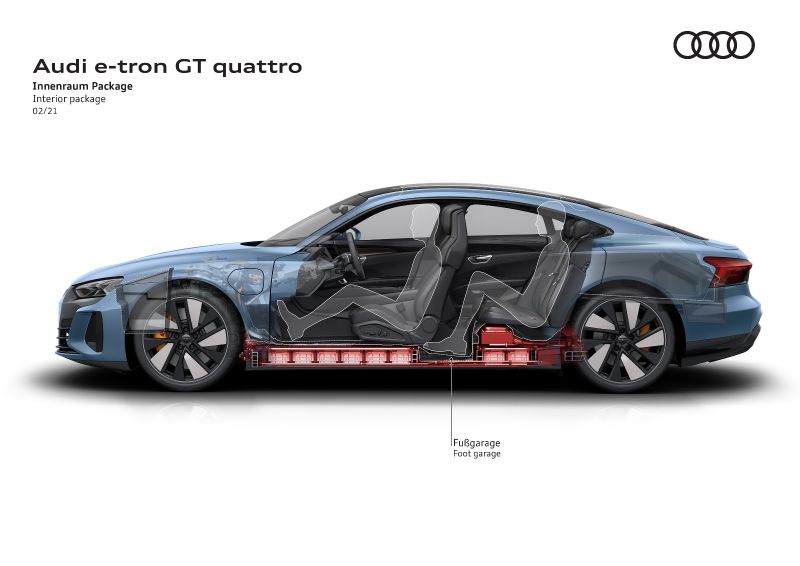 Its dimensions are 4,990 x 1,960 x 1,410 mm, with a wheelbase of 2,900 mm. The interior is relatively spacious considering the low body. The roominess of the front seats is self-evident; space in the rear seats of these cars is usually the problem. This fact however does not apply to the Taycan or the e-tron GT. Two people 185 cm tall can comfortably fit in back. This is because the chassis platform with a large, flat battery has a "carved-out" place for the feet of the rear passengers. This is best seen in the picture.
The interior of course features Audi's 12.1" Virtual Cockpit "plus". The centre console surprisingly has just one touchscreen (the SUV e-tron has two), complemented by classic buttons. And it looks splendid.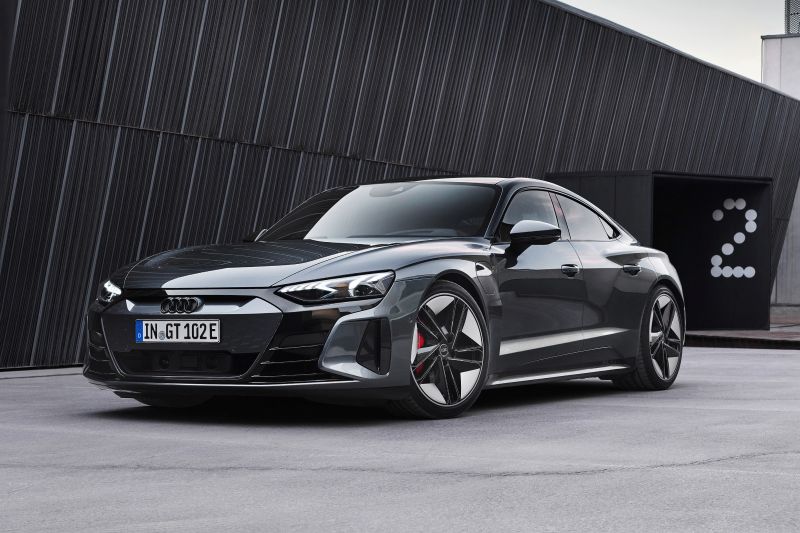 Interestingly, Audi e-tron GT did not use the much-promoted virtual mirrors installed on the SUV e-tron, which reduce aerodynamic drag coefficient. I wasn't too impressed with them from before anyway, so this didn't bother me in the least.
The most affordable e-tron GT Quattro will come to EUR 99,800, and the RS is available for EUR 138,200. Production has already begun in the German factory in Neckarsulm, where R8 models are also being built. Audi foresees sales of 10,000 units annually, which probably won't be hard to achieve. In its first year, the Taycan saw sales of over 20,000 units.
Basic specs
all-wheel drive
rear motor with two-speed transmission
total power 350 kW, the RS 440 kW (torque 630 Nm, the RS 830 Nm)
battery: nominal capacity 93.4 kWh/85 kWh usable.
800 V battery architecture - DC charging up to 270 kW
AC charging 11 kW (22 kW for a surcharge)
100 km charged in 5 minutes
5 % to 80 % in 22-23 minutes
Quattro range: 488 km, RS: 472 km (WLTP)
acceleration to 100 km/h 4.1, the RS 3.3 s
dimensions: 4,990 x 1,960 x 1,410 mm
wheelbase 2,900 mm