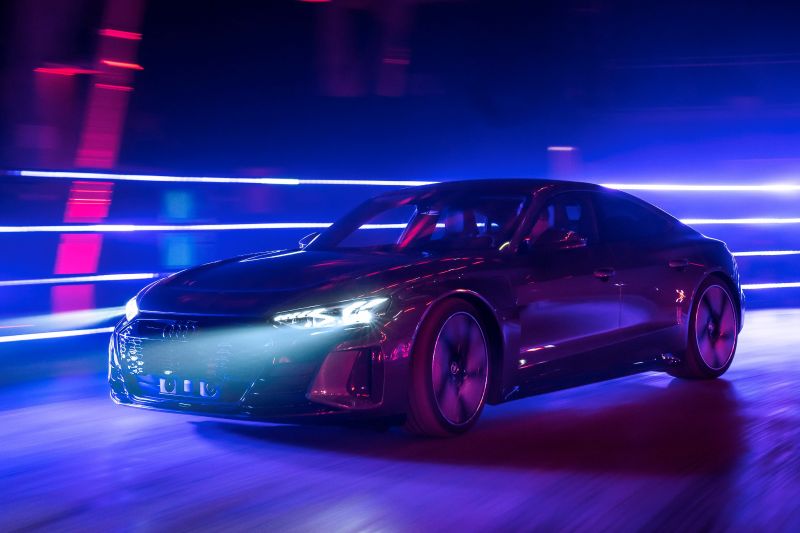 Po dvou SUV s názvy e-tron a e-tron Sportback přichází technologická kopie Porsche Taycan, který zaznamenal v roce 2020 fenomenální prodeje.
Audi v hierarchii koncernu VW patří samozřejmě pod Porsche, takže všechny výkonové parametry jsou o trochu horší než u Taycanu, ale to neznamená, že jsou špatné. Naopak, zrychlení e-tron GT zvládne za působivých 4,1 sekundy a verze RS dokonce za 3,3 sekundy.
Tyto výkony zajišťuje sestava dvou elektromotorů, každý na jedné nápravě (ten na zadní má k dispozici dvoustupňovou převodovku). Souhrnný výkon slabší verze je 350 kW a 630 Nm. RS pak umí 440 kW a 830 Nm. Se zapnutým Launch Control se výkony na dobu 2,5 s dokonce dál zvýší až na 390 a 475 kW u RS!
Maximálky 245 a 250 km/h už tak neohromí. Tady je Tesla se svým modelem S Plaid na hodnotě 320 km/h. Tesla navíc ukazuje svoji technologickou nadřazenost i zrychlením na 100 km/h za neuvěřitelných 2,1 sekundy. Zde ani silnější verze RS e-tron se zrychlením za 3,3 s nedokáže konkurovat.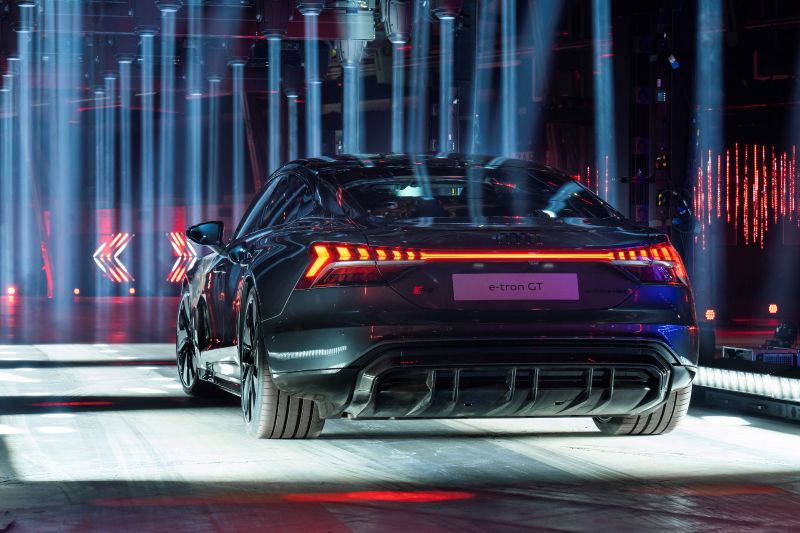 Díky pokročilé 800V architektuře baterie, zvládá e-tron GT nabíjet výkonem až 270 kW, což je stejně jako u Taycanu. To znamená, že dobít na dalších 100 km cesty, je otázka jen 5 minut. Dobití z 5 do 80 % pak 22-23 minut. Baterie má nominální velikost 93,4 kWh, využitelná kapacita je 85 kWh. AC nabíječka je třífázová 11 kW (dobití na 100 % za 9 hodin), za příplatek 22 kW (4,5 hodiny).
O zpomalení velké hmoty tohoto až 2300 kg těžkého vozu se může starat jeden ze tří brzdných systémů, přičemž ten nejlepší je samozřejmě karbon-keramika s průměrem 420 mm. Kola mohou být až 21palcová.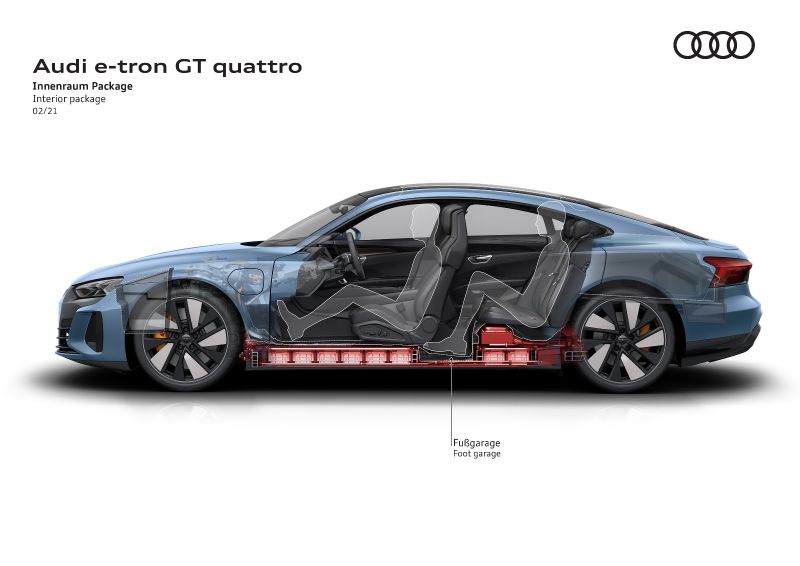 Rozměry jsou 4990 x 1960 x 1410 mm. Rozvor náprav je 2900 mm. I interiér je v rámci možností nízké karoserie, poměrně prostorný. O předních sedadlech nemá cenu hovořit, tam je místa dost, ale zadní sedačky těchto vozů nebývají úplně použitelné. Neplatí to však u Taycanu, ani u e-tronu GT. Dozadu se pohodlně vejdou dvě osoby s výškou 185 cm. Je to možné i proto, že podvozková platforma s velkou plochou baterií má "vykouslé" místo pro nohy zadních cestujících. Nejlépe je to vidět na fotografii.
V interiéru se samozřejmě nachází Audi virtual cockpit "plus" s rozměrem 12,1 palce. Na středové konzole je kupodivu jen jeden dotykový displej (SUV e-tron má dva), který doplňují klasická tlačítka. A vypadá to moc pěkně.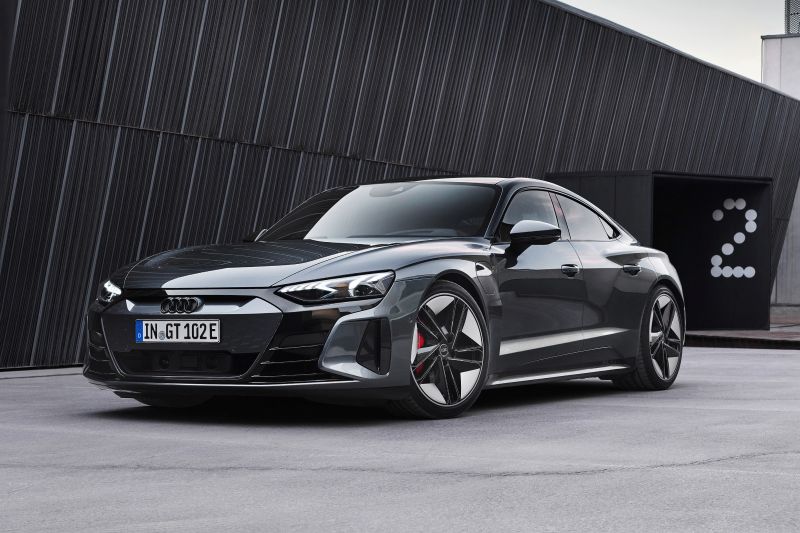 Zajímavé je, že Audi nepoužila tolik propagovaná virtuální zrcátka z SUV e-tron, která snižují aerodynamický odpor. Má zkušenost s nimi však stejně nebyla dobrá, takže mi to nijak nevadí.
Nejdostupnější výbava e-tron GT Quattro vyjde na v ČR na 2.774.000 Kč (99.800 Euro), RS je k dostání za 3.756.000 Kč (138.200 Euro nebo 125.000 Liber). Výroba již začala v německé továrně v Neckarsulmu, kde vznikají také modely R8. Audi počítá s prodejem 10.000 kusů ročně, což asi nebude problém splnit. Taycanu se za první rok prodalo přes 20.000 ks.
Základní parametry
pohon všech kol
dvoustupňová převodovka u zadního motoru
výkon 350 kW, RS 440 kW (točivý moment 630 Nm, RS 830 Nm)
baterie: nominální kapacita 93,4 kWh / využitelná 85 kWh
800 V architektura baterie - DC nabíjení až 270 kW
AC nabíjení 11 kW (příplatek 22 kW)
100 km nabito za 5 minut
5 - 80 % za 22-23 minut
dojezd e-tron GT Quattro: 488 km, RS: 472 km (WLTP)
zrychlení na 100 km/h 4,1 s, RS 3,3 s
rozměry: 4990 x 1960 x 1410 mm
rozvor 2900 mm