My Comparison Table:
Choose a car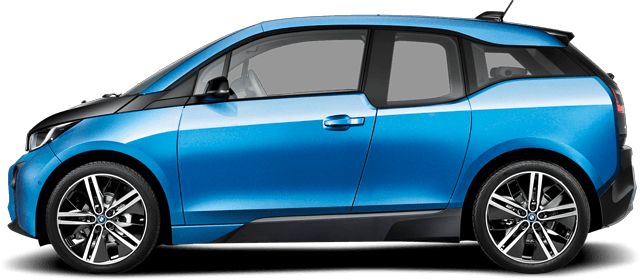 BMW i3 Tech Specs
other variants:
Compare all variants of the BMW i3 side by side
Official Range and Energy Consumption (Combined)
WLTP Range (TEL*): compare 359 km 223.1 mi
WLTP Range (TEH*): 260 km 161.6 mi
WLTP Consumption (TEL*): compare 13.1 kWh/100 km 21.1 kWh/100 mi
Petrol/Gasoline equivalent: 1.47 l/100 km 159.9 MPGe
* TEL (Test Energy Low) indicates the lowest values (most economical) with the lightest set of options
TEH (Test Energy High) indicates the highest values (least economical) with the heaviest set of options
Dimensions and Weights
Body Type: Hatchback
Length: compare 4011 mm 157.91 in
Width: compare 1775 mm 69.88 in
Height: compare 1598 mm 62.91 in
Wheelbase: 2570 mm 101.18 in
Weight: compare 1345 kg 2965 lbs
Max Payload: 440 kg 970 lbs
Weight Distr. Front/Rear: 48/52 %
Luggage Capacity: compare 260 l 9.2 ft3
Luggage Capacity Max: 1100 l 38.8 ft3
Frunk Capacity: compare20 l 0.7 ft3
Ground Clearance: compare 139 mm 5.47 in
Min Turning Circle (curb-curb): compare 9.86 m 32.3 ft
Tire Standard: 155/70 R19
Seats max.: 4
Charging
AC On-Board Charger Standard: 11 kW
DC Fast Charging: compare 50 kW
DC Charge Port: CCS
Charge Port Location: Right rear
AC Charging Times (home, work, hotel)
Select State of Charge (SOC):
The maximum on-board charger power of the BMW i3 is 11 kW.
All figures in the table above are assumed approximate values under optimal conditions.
DC Fast Charging Times
Select State of Charge (SOC):
The maximum fast charging power of the BMW i3 is 50 kW.
All figures in the table above are assumed approximate values under optimal conditions.
Others
Dedicated EV Platform: Yes
Drag Coefficient Cd: compare 0.29
BMW i3 Pros and Cons
strong recuperation

strong brakes

rear-wheel drive - a great solution in wet conditions and in winter

low running costs

long-term consumption only 15.5 kWh/100 km

reliability

excellent view from the car

drives like a go-kart

excellent acceleration of around 7.5 seconds to 100 km/h

excellent spontaneous drive (125 kW, 250 Nm)

summer range up to 200 km, winter range 150 km - enough for city driving

surprisingly spacious interior for four adults

ideal for the city, dimensions: 3 999 × 1 775 × 1 578 mm

sufficient top speed of 150 km/h

weight only 1,320 kg

complicated opening of the rear doors

many options are extra (DC charging, heat pump, heated seats)

boot space

not suitable for long distances - hard suspension, less range

DC CCS charging only 50 kW

no heated steering wheel

high price for such a small car
Compare the parameters of all the model variants
The technical information on this page are used from official data provided by the car companies and figures measured by our editorial staff and/or other independent persons. For further details, please visit the manufacturer's website.
If you think any of the information is wrong, please let us know.