Choose a car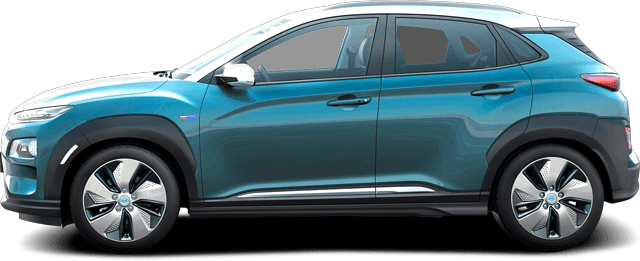 My Comparison Table:
Hyundai Kona Electric 100 kW Tech Specs
other variants:
Prices
Price in the United Kingdom of Great Britain and Northern Ireland (GBP)
On The Road Price
£33,325
Official Range and Energy Consumption (Combined)
WLTP Range (TEL*): compare 305 km 189.5 mi
WLTP Consumption (TEL*): compare 14.3 kWh/100 km 23 kWh/100 mi
Petrol/Gasoline equivalent: 1.61 l/100 km 146.5 MPGe
* TEL (Test Energy Low) indicates the lowest values (most economical) with the lightest set of options
TEH (Test Energy High) indicates the highest values (least economical) with the heaviest set of options
Dimensions and Weights
Body Type: SUV
Length: compare 4205 mm 165.55 in
Width: compare 1800 mm 70.87 in
Height: compare 1570 mm 61.81 in
Wheelbase: 2600 mm 102.36 in
Weight: compare 1610 kg 3549 lbs
Trunk / Boot Space: compare 332 l 11.7 ft3
Trunk / Boot Space Max: 1114 l 39.3 ft3
Frunk Space: comparedoesn't have a frunk
Max Roof Load: 80 kg 176 lbs
Ground Clearance: compare 158 mm 6.22 in
Min Turning Circle (curb-curb): compare 10.4 m 34.1 ft
Tire Standard: 215/55 R17
Seats max.: 5
Charging
AC On-Board Charger Standard: 7.2 kW
AC On-Board Charger Optional: 11 kW
DC Fast Charging: compare 50 kW
DC Charge Port: CCS
Charge Port Location: Front
AC Charging Times (home, work, hotel)
Select State of Charge (SOC):
The maximum on-board charger power of the Hyundai Kona Electric 100 kW is 7.2 kW, optional charger 11 kW.
All figures in the table above are assumed approximate values under optimal conditions.
DC Fast Charging Times
Select State of Charge (SOC):
The maximum fast charging power of the Hyundai Kona Electric 100 kW is 50 kW.
All figures in the table above are assumed approximate values under optimal conditions.
Others
Dedicated EV Platform: No
Drag Coefficient Cd: compare 0.29
Safety - Crash Tests
Euro NCAP: this is the crash test of the ICE version (the electric version has not been tested yet)
Hyundai Kona Electric Pros and Cons
Comfortable seats including heating and cooling

great lane keeping assist - on the motorway you just monitor the situation

very good range 400-500 km

low consumption, I drove around 15 kWh/100 km

150 kW (395 Nm) engine provides a very agile ride in the city but also on the highway

8 years / 160.000 km warranty on traction battery

excellent handling

5 years warranty with no mileage limit

the location of the charging port on the front is absolutely ideal

excellent measured acceleration via GPS Dragy 6,8 s, official figure 7,6 s

operating of many functions with classic buttons (especially air conditioning)

good LED headlights

high build quality throughout the car

comfortable suspension

heated steering wheel

DC charging up to 100 kW, which is not bad, but the new Ioniq 5 is much better (up to 220 kW!)

interesting design of the front end after the facelift

not enough legroom in the rear seats

problems with power transfer to the road in wet or snow (no problems in dry conditions)

smaller luggage space

no frunk

all-wheel drive not available

Efficient driving

Fits 2 kids well

Great range 4 long trips & coping with no home charger

Safety features / driving assistance

Should be cheaper but will resale values plummit if new EV prices do too

Boot could be bigger (e Niro)
Compare the parameters of all the model variants
The technical information on this page are used from official data provided by the car companies and figures measured by our editorial staff and/or other independent persons. For further details, please visit the manufacturer's website.
If you think any of the information is wrong, please let us know.