Choose a car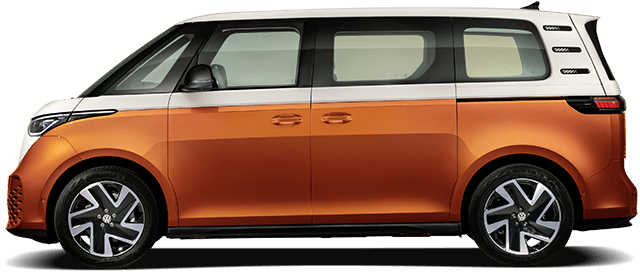 My Comparison Table:
Volkswagen ID. Buzz 82 kWh Tech Specs
Interior And Exterior Photos
Prices
Price in the United Kingdom of Great Britain and Northern Ireland (GBP)
On The Road Price
£57,115
Performance Specs
Power: 150 kW (201 hp)
Torque: 310 Nm 229 lb-ft
Number of Engines: 1
Drive: Rear
Acceleration 0-60 mph: 9.9 s
Acceleration 0-100 km/h: 10.2 s
Acceleration 0-62 mph: 10.2 s
Top Speed: 145 km/h 90 mph
Permanent-magnet synchronous motor connected to the rear axle
Official Range and Energy Consumption (Combined)
WLTP Range (TEL*): 423 km 262.8 mi
WLTP Range (TEH*): 410 km 254.8 mi
WLTP Consumption (TEL*): 20.6 kWh/100 km 33.2 kWh/100 mi
WLTP Consumption (TEH*): 21.8 kWh/100 km 35.1 kWh/100 mi
Petrol/Gasoline equivalent: 2.32 l/100 km 101.7 MPGe
* TEL (Test Energy Low) indicates the lowest values (most economical) with the lightest set of options
TEH (Test Energy High) indicates the highest values (least economical) with the heaviest set of options
Battery
Battery Type: Lithium-ion
Battery Capacity Gross: 82 kWh
Battery Capacity Useable: 77 kWh
Dimensions and Weights
Body Type: MPV
Length: 4712 mm 185.51 in
Width: 1985 mm 78.15 in
Height: 1927 mm 75.87 in
Wheelbase: 2989 mm 117.68 in
Weight: 2486 kg 5481 lbs
Max Payload: 589 kg 1299 lbs
Trunk / Boot Space: 1121 l 39.6 ft3
Trunk / Boot Space Max: 2205 l 77.9 ft3
Frunk Space:doesn't have a frunk
Max Roof Load: 100 kg 220 lbs
Max Tow Hitch Load: 50 kg 110 lbs
Max Trailer Load Braked: 1000 kg 2205 lbs
Max Trailer Load Unbraked: 750 kg 1653 lbs
Ground Clearance: 180 mm 7.09 in
Min Turning Circle (curb-curb): 11.09 m 36.4 ft
Tire Standard: 235/55 R19
Rear Tire Standard: 255/50 R19
Seats max.: 5
Charging
AC On-Board Charger Standard: 11 kW
DC Fast Charging: 170 kW
DC Charge Port: CCS
Charge Port Location: Rear Right
AC Charging Times (home, work, hotel)
Select State of Charge (SOC):
The maximum on-board charger power of the Volkswagen ID. Buzz 82 kWh is 11 kW.
All figures in the table above are assumed approximate values under optimal conditions.
DC Fast Charging Times
Select State of Charge (SOC):
The maximum fast charging power of the Volkswagen ID. Buzz 82 kWh is 170 kW.
All figures in the table above are assumed approximate values under optimal conditions.
Others
Platform: MEB
Dedicated EV Platform: Yes
Drag Coefficient Cd: 0.285
Pros and Cons by myEVreview
Comfort chassis very similar to e.g. VW ID.4
Quiet interior
Good turning circle
Very good LED lights
Good driving stability
Great electric family car
Positive reactions from people passing by :)
Lots of storage space
Excellent view from the car
nice mix of retro and futuristic design
Good city consumption (18-20 kWh), but high highway consumption (over 30 kWh)
DC charging up to 170 kW
Huge trunk / boot (no frunk)
Vehicle-to-Load (V2L)
Regular versions are RWD (a better solution than front-wheel drive)
Improved software 3.2
Will be an extended version (plus about 30 cm)
Electrically operated side sliding doors
Many interesting body colour combinations
High seating position
AWD and GTX (220 kW) in the pipeline
City range approx. 350 km, but highway range only 200-250 km
First series of ID. Buzz does not yet have a built-in heat pump
Highway range only 200-250 km
High highway consumption (over 30 kWh)
Large interior needs a lot of power for air conditioning (in winter for heating)
So far only the 5-seater version
Top speed only 145 km/h
Compare the parameters of all the model variants
The technical information on this page are used from official data provided by the car companies and figures measured by our editorial staff and/or other independent persons. For further details, please visit the manufacturer's website.
If you think any of the information is wrong, please let us know.