Hyundai rolled up its sleeves and developed an entirely new platform for its electric car called E-GMP. It applies perhaps all the latest knowhow on designing purely electric vehicles. And just how good a job their designers have done is evident in most parameters of this just-introduced Hyundai Ioniq 5.
800V battery architecture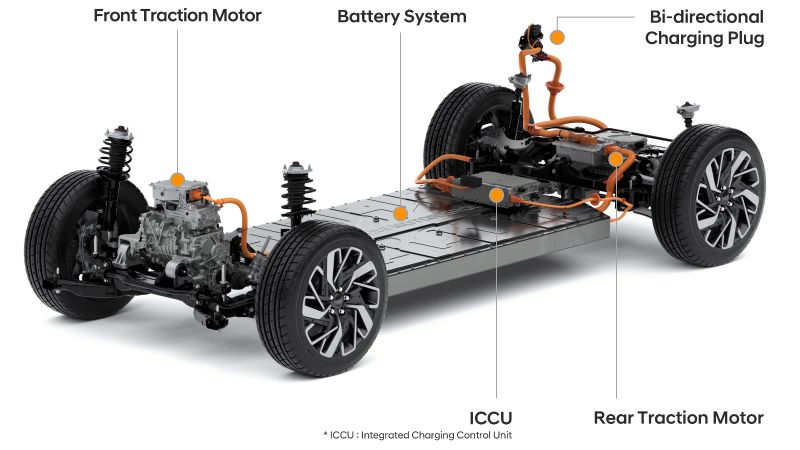 Perhaps the most important parameter is the 800V battery architecture. This allows charging performance of over 230 kW! So in just five minutes, the Ioniq 5 recharges energy for another 100 km. And it takes less than twenty minutes to get from 10% to 80% battery capacity. The E-GMP platform however also manages to "switch over" to 400V, so for weaker and more widely spread fast chargers alike, recharging will be problem-free.
This makes it a surprising competitor of larger EVs - such as the ID.4 or Tesla Y
But let's look at the Ioniq 5 itself. It is a hatchback, true, but the photographs don't do justice to its size.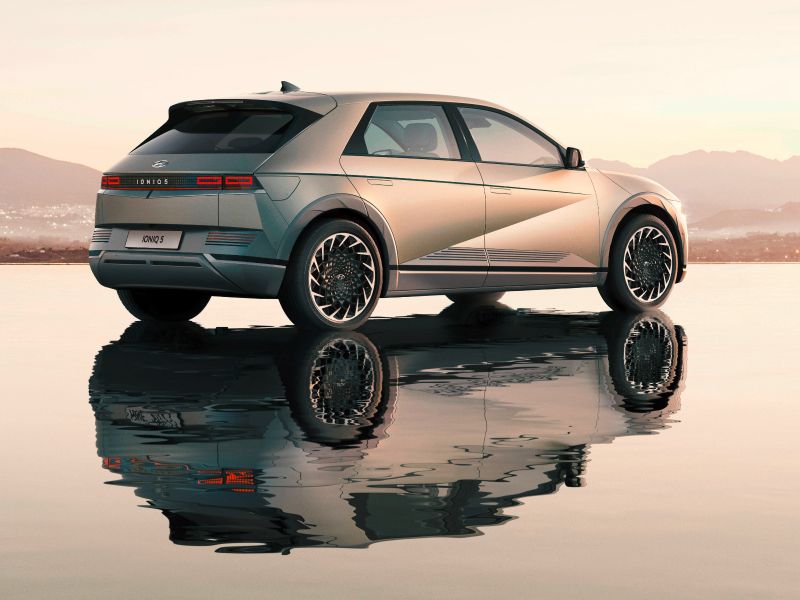 That is, this is no little "Golf", but rather quite the sizable vehicle. Let us compare the dimensions for instance with the electric VW hatchback ID.3. The Ioniq 5 dimensions: 4,635 x 1,890 x 1,605 mm and an incredible 3,000 mm wheelbase. (ID.3: 4,262 x 1,809 x 1,552 mm, with a wheelbase of 2,765 mm). The comparison shows that Ioniq 5 is at least a class above the ID.3. You ultimately will find that the Ioniq 5 is dimensionally comparable to the ID.4 or e.g., the Tesla Model Y.
Design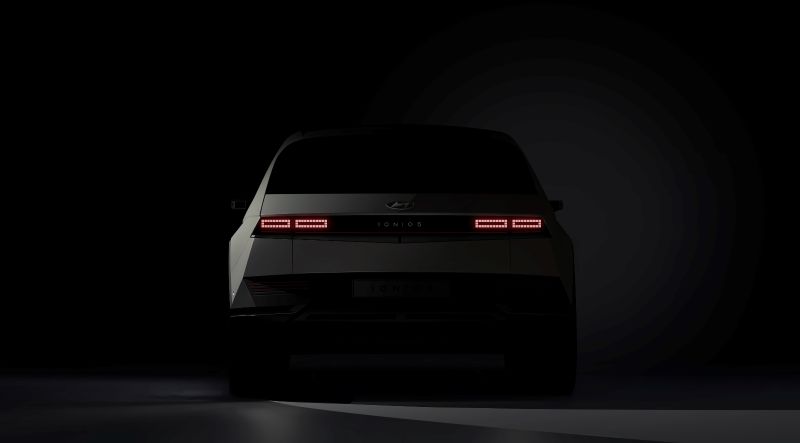 The design of the chiseled exterior is truly sophisticated. I would say that such a successful car design has long eluded Hyundai until now. I like in particular the proportional handling of a large car, and the "pixel" front and rear lights are the icing on the cake. All this is enhanced by its massive bonnet.
Large interior space thanks to the huge three-meter wheelbase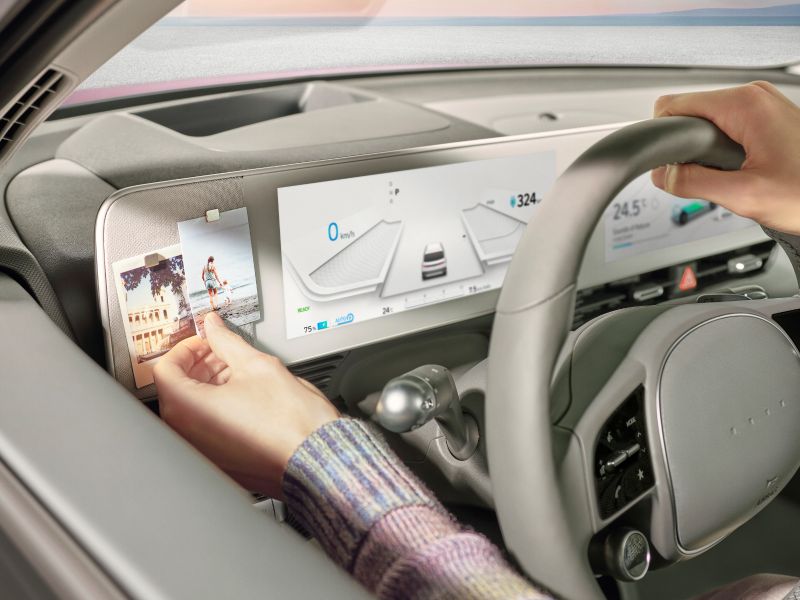 The photographs show the huge interior space for the crew. This dimensional comfort is supplemented by lots of other clever surprises. The minimalist shape of the dashboard is complemented by two large 12-inch screens, the right one being a touchscreen. There is also a head-up display enhanced by augmented reality (AR), the first of its kind for Hyundai. The center console - "Universal Island" - can be moved in a range up to 140 mm. And although the interior is already quite spacious, the engineers reduced the front seat thickness by 30%, thus furthering increasing rear passenger room.
The trunk has a volume of 531 litres, and by folding the rear seats down, it expands to a 1,591 litres. There is even a modest "frunk" with a volume of 57 litres (only 24 litres for the 4x4 version).
Performance and battery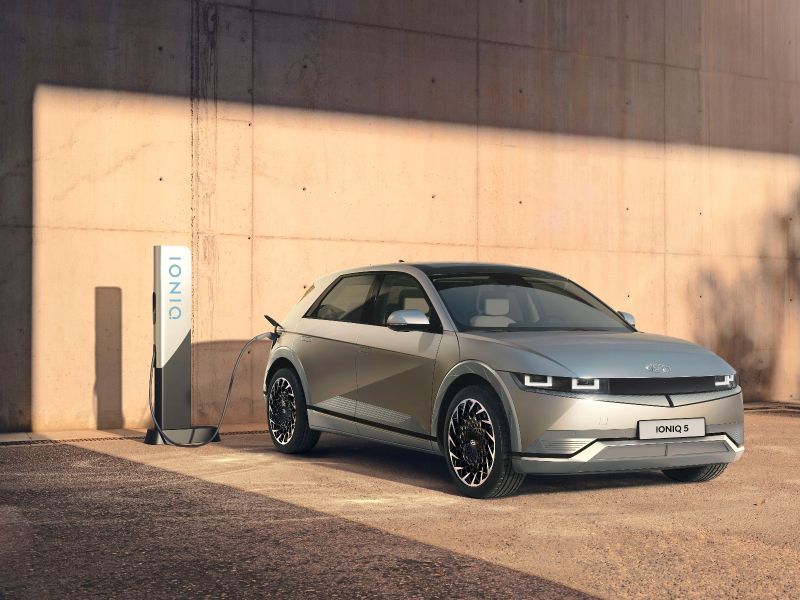 Two battery sizes are available - 58 and 72.6 kWh. It will be possible to order a version with rear-wheel drive or 4x4. The larger version has a range of up to 480 km based on WLTP. Its speed tops out at 185 km/h. The top of the line will therefore be the AWD version with larger 72.6 kWh battery, 225 kW of power and 605 Nm of torque. All this enables pretty respectable acceleration from zero to 100 km/h in 5.2 seconds. With the smaller battery, the AWD version can handle it in 6.1 seconds.
The Ioniq 5 with rear-wheel drive reaches 160 kW of power and 350 Nm of torque. With the 72.6 kWh battery, this acceleration is 7.4 seconds, and is 8.5 seconds with the 58 kWh battery. The car can also come with a towing hitch to pull a trailer weighing up to 1,600 kg.
An interesting innovation is the function V2L (Vehicle-to-Load). The vehicle has two classic 230V sockets (one inside and one outside) with up to 3.6 kW of power. It is thus possible, for example, to also charge electric bikes or scooters, and probably charge up some other electric car that has run out of "juice".
Price
The Ioniq 5 will be available as early as this year, but only in selected markets. The price is still a question mark, but it certainly will be higher than the electric Hyundai Kona, so we'll probably be looking at a figure much higher than EUR 40,000. The decked-out AWD version with the larger battery should sell for cca EUR 60,000.