Test Drive
Porsche 4S Taycan Plus - thorough winter test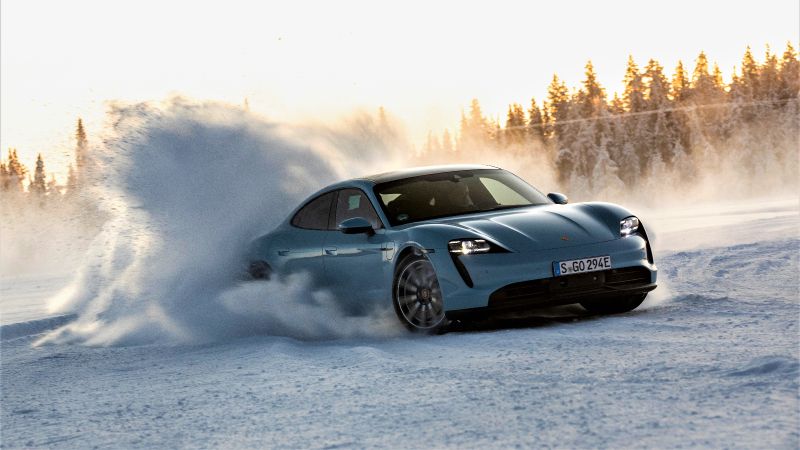 I'm not a typical car fanatic so I don't have a lot of experience with high-end sports cars, but test-driving this Porsche was a tremendous thrill. It's just the ultimate driving experience. The Taycan is incredibly sporty, but with a practically set chassis. The car grips the road as if nailed to it...in any weather and road quality. Everything handles beautifully. Having said that, it's still no 911 model; the Taycan certainly isn't light - it's an executive limousine. This is seen in its length of almost five meters. When driving, this weight can obviously be felt, but at the same time you feel like the Taycan simply denies the laws of physics. What's really nice is how the Porsche Taycan 4S is universal.
Electric motors in this 4S Plus version with a larger battery (93.4 kWh) are set to a total power of 420 kW and 650 Nm total torque. For me, the performance of this version is quite sufficient, because it handles acceleration from zero to 100 km/h in four seconds, until recently a privilege known only to super sports cars.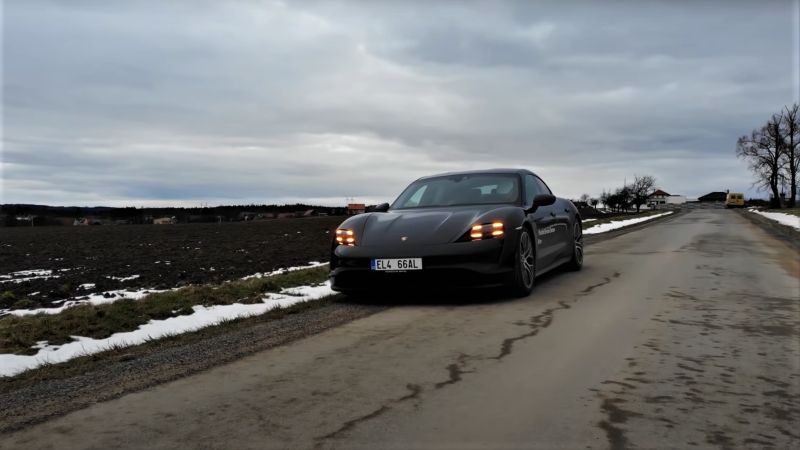 There is one disadvantage to be reckoned with. If the battery is chilled and is already pretty exhausted, acceleration (overtaking) may deteriorate. When the battery discharged to 22%, I measured acceleration to 100 km/h in 5.74 seconds. With a charged battery, acceleration to this speed with activated Launch Control took exactly four seconds (as declared by the manufacturer). Without LC, it took a negligible 0.3 seconds longer.
The Taycan 4S is an all-wheel-drive vehicle, meaning that each axle has its own motor, and interestingly, the rear motor has two-speed transmission. The first gear provides aggressive acceleration up to about 100 km/h while the second one covers further acceleration above 100 km/h. It is an intriguing technical solution. Normally however, the Taycan starts out in second gear.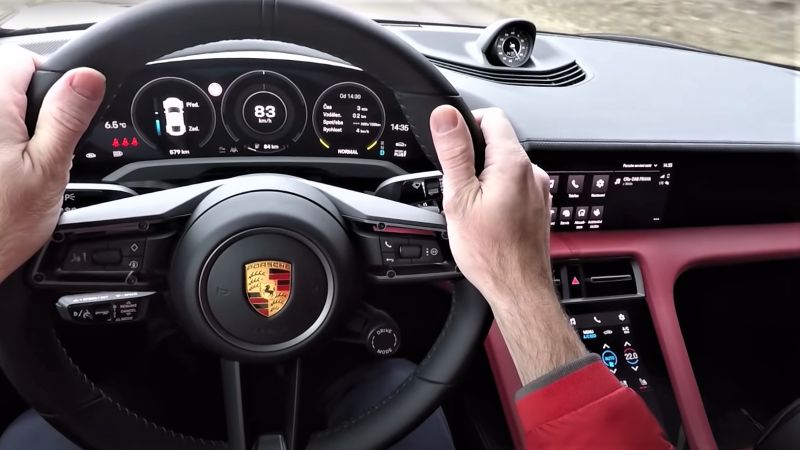 The indicated WLTP official range is 464 km. Realistically, however, there is a certain difference whether we are talking about hot or cold weather. The Taycan's worst range is in winter on the highway, averaging at cca 320 km, while in the summer, its range maxes out at just over 600 km. Now, in winter, I had highway consumption of 25.5 kWh per 100 km, which I think is a great value for such a large vehicle. In the annual mix, I imagine that I would drive at cca 22 kWh if 70% constituted highway use. During this test, as we frequently tried out the car's dynamic parameters, the average consumption was 29 kWh, still a respectable value.
The Li-ion battery has a nominal capacity of 93.4 kWh (83.7 kWh usable). Its placement in the middle under the car beautifully lowers the centre of gravity and helps create the handling and sportiness of the Taycan. The battery has an 800 V architecture that enables ultra-fast charging performance of up to 270 kW. The battery has superior cooling, which Porsche proved e.g., by letting the Taycan accelerate 30 times in a row from zero to 100 km/h, where the system never overheated. A lot of super sports cars would probably not pass such a test.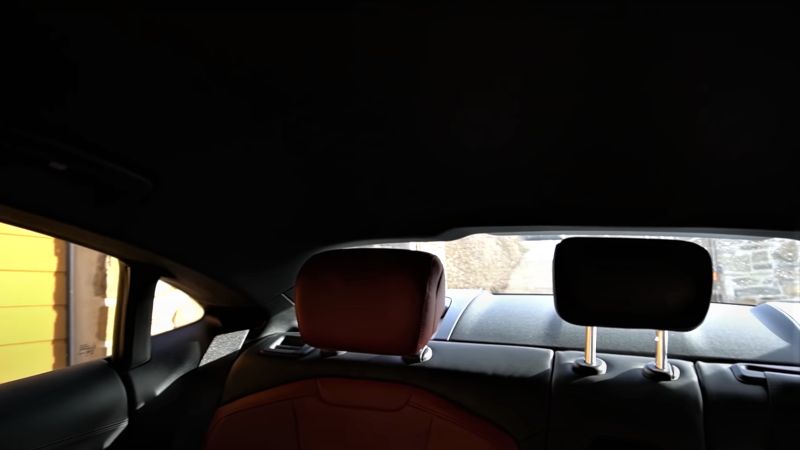 The car's design lends an excellent view forward and sideways, but the rear view through the low window and C-pillar is obviously worse.
For me, this is perhaps the most beautiful car on today's market. It has the typical teardrop shape like all Porsches. The rear sloping section looks much sleeker than that of the Panamera, which just seems too bulky.
The base price is around EUR 115,000, and the test car loaded with equipment came to EUR 170,000. I personally would configure my Taycan to the tune of around EUR 130,000.
Service intervals are every two years or 30,000 km. The basic warranty is for three years. The battery warranty is for eight years or 160,000 km, whichever comes first. After many years and approximately 3,000 cycles, the expected battery degradation will be cca 20%. However, 3,000 cycles for this size battery means driving around 900,000 kilometres!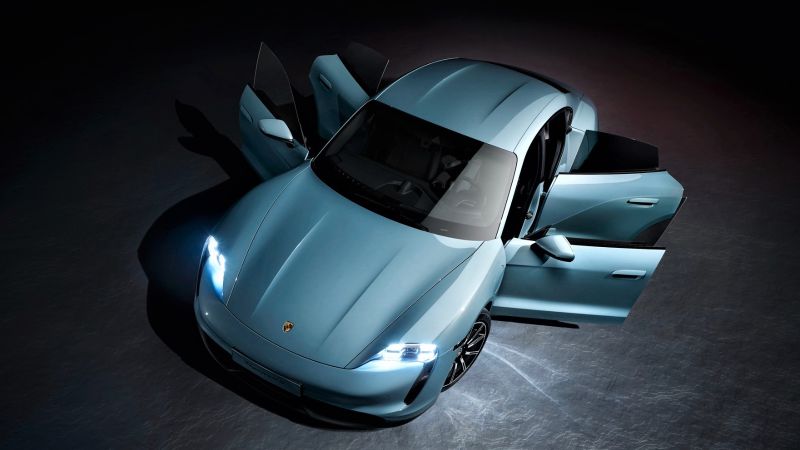 Conclusion: Taycan 4S Plus is the weaker variant in the current line, but from my perspective it is quite sufficient. It has enormous power reserve for situations you eventually encounter on the roads. It is sporty by nature, and it is indeed a heavy car, but it more than makes up for this with its superb chassis. I also like that it's a universal car; you can have a lot of fun with it in the corners, but it can also ride like a comfy limousine.
One point of interest is the configuration of the car. The list of surcharges has a whopping 190 items, and you can click boxes for additional equipment of cca 77,000 Euro, if your pocket and sense so allow.
And so, the overall assessment - a big thumbs up. If you are thinking about buying a large luxury car, I definitely recommend test-driving a Taycan. You will be pleasantly surprised.
Click here for detailed technical data on the Taycan 4S Plus.