Nutzerbewertung
The Rivian R1S is Essentially a Luxurious Electric Land Cruiser. . .Fast, Spacious, and Capable.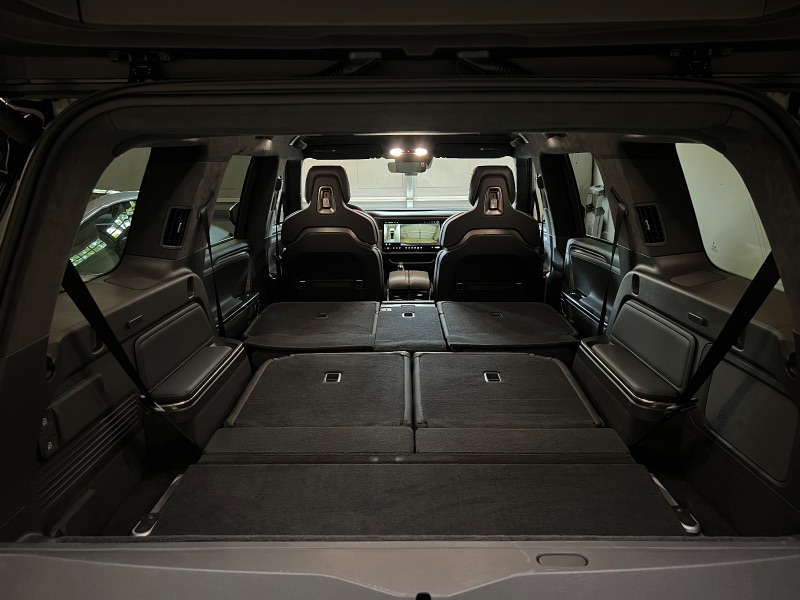 From the first moment that I saw photos of the Rivian R1S in 2018, I was intrigued. I had just taken delivery of a Tesla Model 3 Dual Motor a couple of months earlier but I had traded in a BMW X3 for the Tesla. Although I loved the Model 3, I missed the utility of an SUV for carrying bicycles without taking off the front wheel, hauling boxes, furniture or basically anything else. I was sold on electric from my first Tesla test drive but still missed having a boxy SUV. The Model X was not an option due to the high price and the sloped roof removing much of the utility of an SUV. After obsessing over the Rivian R1S for a long time, I finally put down a $1000 deposit in November 2020. Fast forward 2 and 1/2 years and I took delivery of my R1S just before the summer of 2022.
My first impressions were that the interior quality is light-years ahead of the Tesla but fit and finish still shows some of the growing pains of a new company. It is not up to BMW or other luxury car levels and I had to make a service appointment because my rear tailgate on delivery had an issue where the sensors that would not allow the hatch to close properly unless it was slammed shut. As for driving impressions, to me it drives much more like a truck-based SUV than a crossover. The ride and handling remind me far more of a Toyota 4Runner or an Infiniti QX80 (twin of Nissan Patrol/Armada) than my BMW X3 or even the BMW iX. Despite the more truck-like ride, the numerous drive modes (All-Purpose, Sport, Conserve, Snow, Off-Road, and Towing) and drive height options (Low, Standard, High, and Auto) plus multiple settings for suspension and brake regeneration allow nearly everyone to find the right setting for their style of driving. I normally leave it in All-Purpose mode and Low ride height for around town and change the ride height to Auto for long highway travel. The acceleration is crazy fast for a vehicle of its size and stomping on the pedal in Sport mode on the freeway onramps is always a thrill.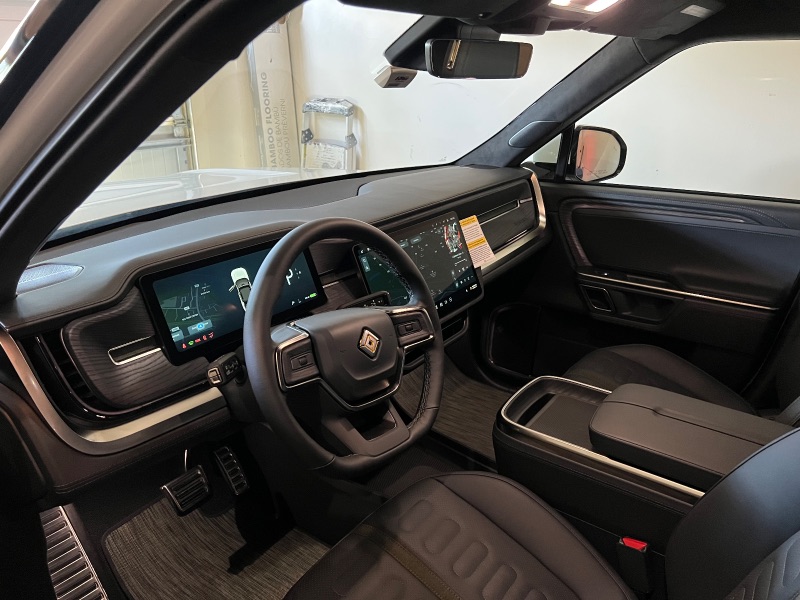 The front seats, although comfortable, are not at all sporty for a vehicle this capable. My VW GTI, BMW X3, and Tesla Model 3 all had side bolsters on the driver's seat that kept me planted while taking corners fast. The Rivian R1S lacks such aggressive bolsters and I feel myself sliding a bit around while going fast around corners. The second row seats adjust forward and back allowing even enough room for me to sit comfortably in the third row at 6'1" (185cm). There is a small amount of storage under the sub-floor in the rear, especially if you don't carry the optional temporary spare tire. The front trunk, however, is huge. I know not everyone understands its utility, but I was able to hold more than a hockey bag's worth of gear in the front trunk for a week long bike camping trip and never had to worry about dragging these items into the hotel or risk a break-in by leaving them exposed in the rear of the vehicle.A little over one month after taking delivery of the vehicle, I took a 2,000+ mile road trip carrying my bike, luggage, my dog, and a week's worth of gear for camping and cycling. I was impressed with both the range and efficiency of the vehicle. I have the 22" sport wheels and still averaged 2.42 miles per kWh (413 Wh/mile) over the length of the trip with highway speeds in excess of 70mph. With close to 3,000 miles on the odometer now, my average efficiency if 2.56 miles per kWh (391 Wh/mile) and city driving efficiency in summer as high as 3.7 miles per kWh (271 Wh/mile). The charging curve is impressive as well and it stays near peak charging speeds for a much longer time than my 2018 Tesla Model 3 does. For a vehicle with a battery nearly twice as large as the Tesla, the Rivian barely takes longer to charge at Level 3 chargers. I was able to add more than 85 kWh in less than 30 minutes and 100 kWh in 45 minutes while on the road. That being said, the lack of access to the Tesla Supercharger network in North America until at least 2024 takes some shine off of the Rivian's luster as a road trip vehicle. While Tesla Superchargers are everywhere, Level 3 CCS chargers are few and far between, especially in the midwest of the U.S. and they mainly belong to the notoriously unreliable Electrify America network.
Other small complaints relate to the highway-assist/traffic aware cruise control. Although the Rivian R1S has very good lane-keep assist with audible and vibration alerts when you begin to drift out of a lane or even don't hold down the turn signal long enough while changing lanes, the system will often disengage on divided highways for no apparent reason and it appears to be several generations behind the Tesla Autopilot system at this point. The infotainment system's main screen also has a noticeable lag while shifting between modes (e.g. navigation to cameras). The wireless phone charger in front of the armrests is essentially useless. I have already replaced it with an aftermarket MagSafe charger from TWRAPS. The cameras, however, are excellent and include front, rear, and birds-eye views that make parking such a large vehicle easy.
Although many new electric SUVs have come on the market since I put the deposit on the Rivian R1S almost 3 years ago, if I had to do it again I would probably still buy an R1S. I would consider saving some money and opting for the performance dual-motor instead of the quad-motor version, however, because I don't have any current plans to take it off-roading. To this day, it remains a vehicle with no true competitors.