Owner Review
Audi e-tron 55 quattro Sportback - great car, but that battery...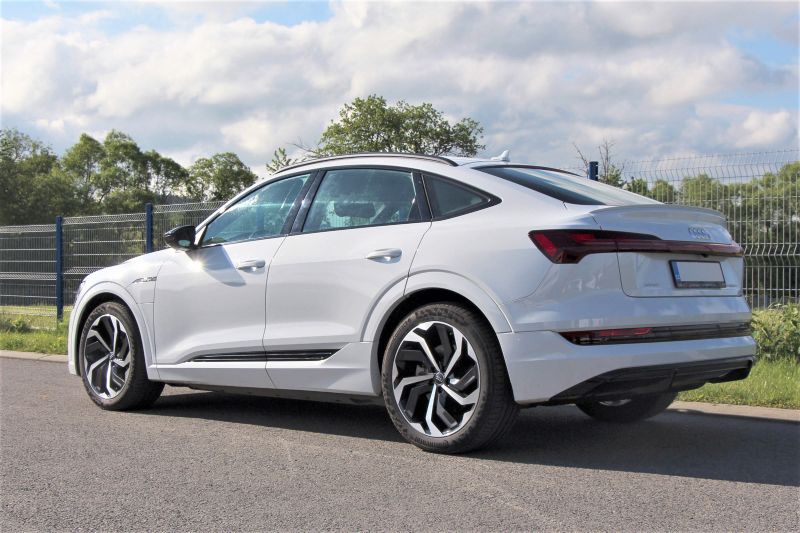 I've always admired any well-made electronics. Ten years ago, I got a photovoltaic system on the roof of my house and in the company. The last piece to my "electro" puzzle was an electric car. My selection eventually shortlisted to either the Tesla model X or the Audi e-tron.
I had the opportunity to try both cars. Although I admire Tesla for how it has changed the electric car market over the last ten years, unfortunately I was not able to give the green light so to speak on such poor build quality. Here a protruding bar in the interior, there strange plastic or rubber. This is not how I imagine a car with a price tag approaching 80 thousand Euros, and I hope Tesla will work on these things in the future. I do acknowledge that the whole basis of the car after ten years of development could far surpass that of the Audi, but still my choice ultimately fell to the e-tron 55 quattro Sportback. This was due in part to the proximity of an Audi service center, whereas Tesla's service was some 300 km away.
Audi e-tron 55 quattro Sportback
It is simply a well-crafted Audi, like any other model of this manufacturer. Everything is precisely refined, and the entire car exudes a feel of quality. While it's true that certain performances (like acceleration) of Tesla's Model X are still a class above, the e-tron suits me perfectly.
Driving characteristics
The Audi e-tron has a generally comfortable air chassis and is awesome in ironing out bumps in the road. In sports mode, it's not a problem to get away from most cars. A bit of a problem is the high weight, about 2.5 tons. The driver of such a heavy car must be keenly aware of this weight. The chassis does what it can and tries its best, but you can't conjure up an Audi TT out of an e-tron.
Consumption
I've put 22,000 kilometers on the e-tron so far. Consumption is in line with the higher weight and less aerodynamic SUV body. In the autumn, I drove with consumption of about 25 kWh, and winter operation increased consumption to 30 kWh. I therefore estimate the annual average consumption at 27-28 kWh per 100 km.
Charging
I try to save the battery, so I charge to 90% slowly on AC (mostly in the company when I work in the office). I am glad that I do a lot of charging at home or in the company from solar energy gathered by the roof-top photovoltaic system. This makes it really eco-friendly to be driving an electric car, no matter what others might think. I rarely use DC fast charging on longer journeys. The e-tron has super-fast DC charging, but I'm a little worried about the overall battery life if I charge like this often.
Unfortunately, there's also one serious drawback. Since the first charge, I've kept a record of the amount of electricity used for charging. and after converting to 100% recharge, I found that the battery was never able to hold the declared 86.5 kWh. According to my calculations, the battery capacity right from the beginning is at least 5% worse than it should be.
Audi's service measurement confirmed that the capacity for a near-new car is at 97%, which is odd, and I think it's even worse than that in fact. Unfortunately, it is not to the point of claiming (battery repair) just yet, so I have no choice but to treat the battery wisely, not to charge it often all the way to 100% and not to let it drain below 5%.