Owner Review
Tesla Model S Performance - 800 horsepower and 80,000 km almost free
I had long followed the developments of Tesla and Elon Musk. So, when I visited the US several times in the years 2017-2019, I rented out the Tesla S and the Tesla 3. It was an introduction I could never forget. Later, I rented a model X for a week and there I made up my mind. Once you've had a proper drive in a Tesla (or any other decent electric car), you won't want anything else.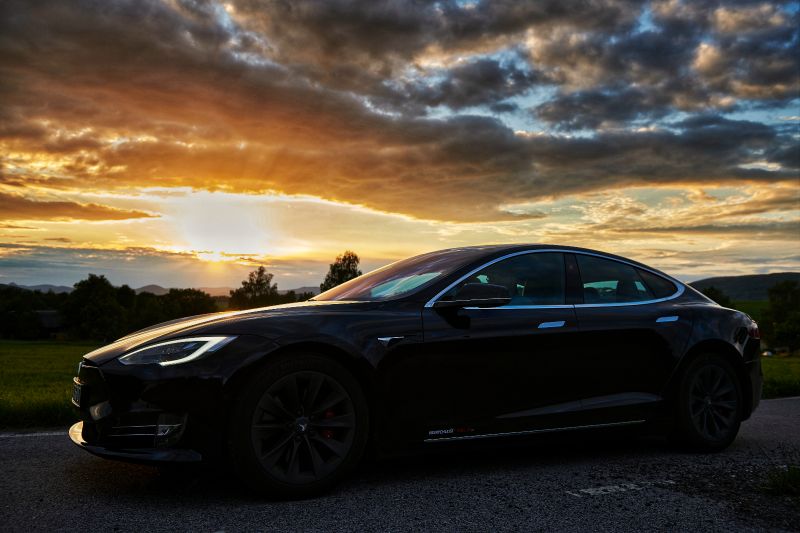 Then I started to really consider buying a Tesla Model S, in fact its most powerful version - the Raven. It had unreal power up to 775 k (570 kW), and similarly unreal acceleration from a standstill to 100 km/h in 2.5 seconds. Not even the best Mercedes-AMG sedans can do this.
After a few weeks of searching, I found the ideal car for me, a demonstration model over in Germany right by a Tesla Store. A new Raven cost around 115,000 Euro; the fact that it was demo obviously saved me a few tens of thousands of Euros.
Economy of operation
I bought my Raven when it had 6,000 km on it, and now it's approaching 80,000 km. During that time, I have driven countless demonstration rides (because I run a service demonstrating this car for those interested), hundreds of accelerations to 100 km/h in under 3 seconds, as well as hundreds of sharp decelerations. I dare say that after exerting such demands on the car, to pay just 100 Euro to replace the brake pads is really nothing less than a beautiful result. Try to guess how much it would cost for regular service of a similarly powerful internal combustion engine sedan, and moreover, under such a workload.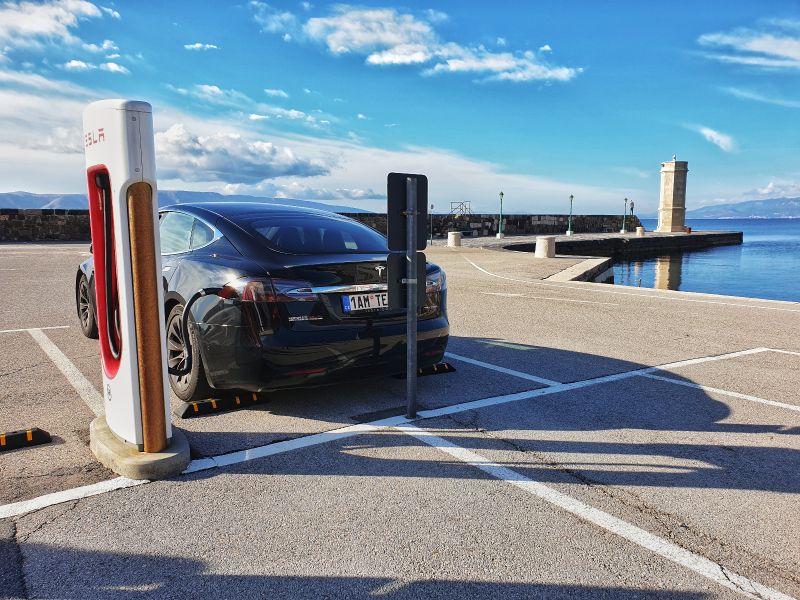 Living in a flat leave me no chance to charge overnight at the house like EV owners most often do. But it's not a problem since I always charge along the way, at public charge points and using Tesla Superchargers. I travel extensively - up to 8,000 km per month! Monthly, because I have Supercharger free, I pay only about 50 Euro for electricity, which is incredibly low compared to the cost of running my former Audi A4 1.9 TDI.
With that 2001 Audi, when driving 8,000 km per month, I was paying huge bills for fuel and servicing alike. Just to give you an idea, it ran me about 550 Euro per month for diesel fuel, and on top of that were bi-monthly oil and filter changes, brake replacement three times a year (3 x 270 Euro) and distributions once per year (400 Euro). The difference is staggering.
Consumption and performance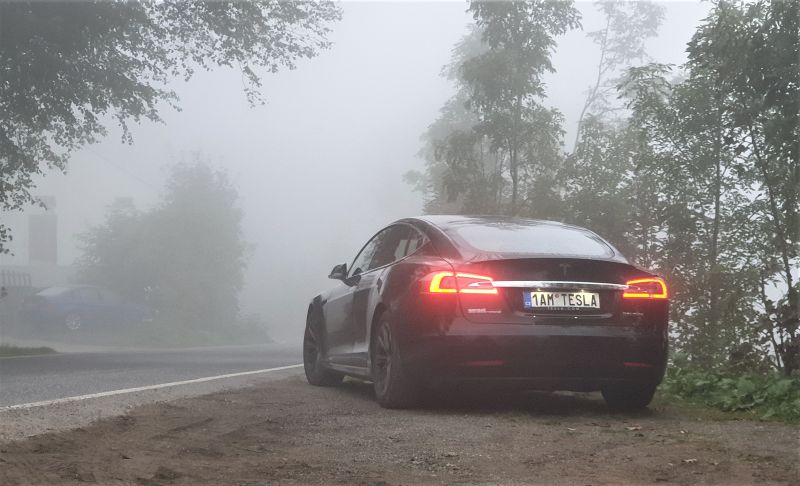 On frosty days and traveling short distances, consumption may rise to 27 kWh, while the lowest consumption I reached was cca 15 kWh. The most interesting to me is the long-term average of 23 kWh per 100 km. This is achieved including all demonstration rides, all thousands of accelerations, etc. In addition, I almost invariably drive with the "sport" mode switched on. You see, I'm not entirely focused on eco driving. Quite the contrary, I take full advantage of the Raven's fantastic performance led by eight hundred horses and a thousand Newton meters of torque. Tesla has obviously been working long years on reducing consumption. Despite the super sports car performance, I drive using economic sedan consumption. In this, Tesla is really at the forefront.
And may I mention one more thing regarding power? When I bought this Tesla, it had 775 K (570 kW) of power. But after one OTA update, its output increased to 815 K (600 kW). Thanks Elon. :)
According to the technical data the Raven manages acceleration in 2.5 seconds. So far, I only got close to that at 2.58 seconds. Even so, it is indeed hardly something to complain about. If you are interested in cars, you probably know that a mere handful of super sport cars can do 0-100 km in 2.5 seconds. But I've already been hearing complaints that Teslas can only go straight. This is so untrue. On the contrary, I always enjoy driving country roads, and the low centre of gravity makes cornering awesome. The second generation of air suspension certainly helps this. It can be sporty yet beautifully comfortable at slower speeds.
Reliability and tyre wear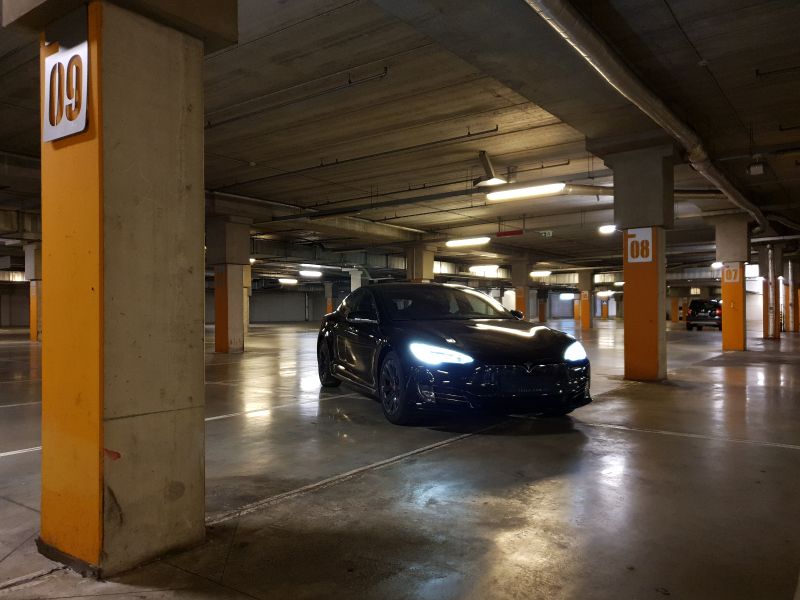 Despite the challenging driving demands, reliability is still decent. Still, a headlight had to be replaced (under warranty) because the LED daytime running lights began to turn yellow. Once I also had a problem with the door handles, into which I had accidentally sprayed water when high-pressure washing, and they didn't want to retract (the S model has electrically retractable handles).
The tyres (Michelin Pilot Sport), which would be expected to decline rapidly (due to the performance of the car), did remarkably well, lasting 54,000 km until they needed replacing. The weakness of both Tesla S and X lies in their front axles. At maximum acceleration, after a few tens of thousands of kilometres, you can feel a slight vibration coming from the front end. I am having them replaced under warranty.
Autopilot
This works great, especially if you use it on the highway. It handles 99% of my travelled highway distances. I will not conceal that sometimes Autopilot "frightens" lorries and begins to brake abruptly. But it only happens once every 200 km on average, and Autopilot is constantly being improved. On country roads, I use Autopilot just occasionally because I prefer to enjoy controlling the vehicle myself. Autopilot then manages to manoeuvre smartly in traffic jams. I was surprised that Autopilot works well even in rain or fog, when the display shows cars that I still can't see.
Long routes
This is obviously a big advantage of Tesla and its Supercharger network. That is, if I went e.g., to France, I would have no problems comfortably "driving" across the network the entire 1,300 km.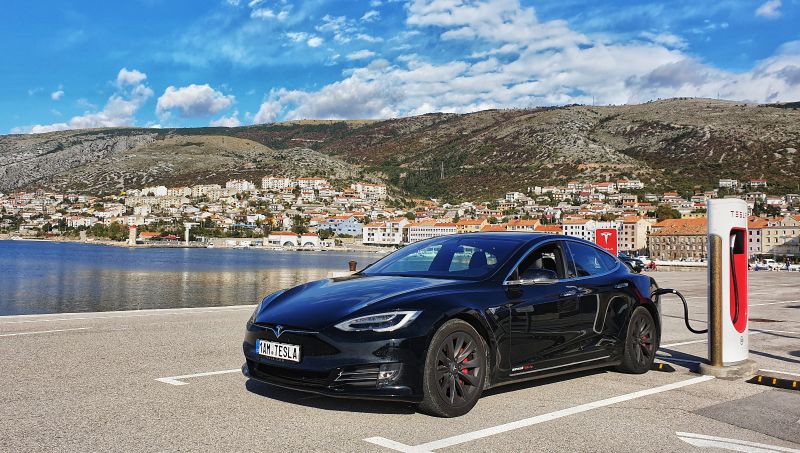 The model S manages recharging with maximum power of 150 kW (because in Europe, the Tesla Model S uses reduction to a CCS port and it can't handle more). This means recharging from 10% to 90% takes 40-45 minutes, and then I can go another 400 km (in winter 300 km) to the next recharging point. I would call the interior soundproofing average; I tried out the Porsche Taycan and it has far better soundproofing.
And just so that I don't just shed praise on the benefits of the Model S, here are some of its other drawbacks: Model S is exceedingly long and wide, so manoeuvring around town and in tight parking spots isn't exactly pleasant. Neither is the steering angle particularly good (due to the large 19-inch wheels). The model S also can't tow or have a roof rack. These deficiencies are addressed in the models 3 and Y.
Conclusion
Today, I already can't imagine going back to a similarly powerful combustion model. From my perspective my Tesla S Performance encapsulates the future of automobiles.