Choose a car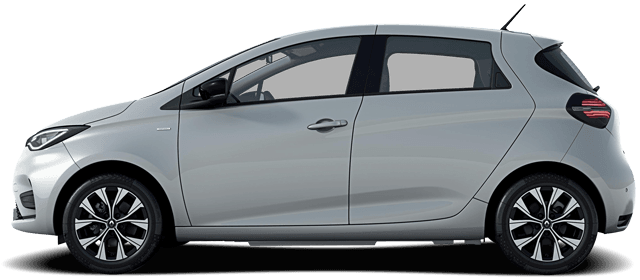 My Comparison Table:
Renault Zoe R135 Tech Specs
other variants:
Interior And Exterior Photos
Prices
Price in the United Kingdom of Great Britain and Northern Ireland (GBP)
On The Road Price
£29,995
Price in Germany (EUR)

| Preis inkl. MwSt. | Umweltbonus | Effective Price |
| --- | --- | --- |
| 37.840 € | -6.750 € | 31.090 € |
Official Range and Energy Consumption (Combined)
WLTP Range (TEL*): compare 386 km 239.8 mi
WLTP Consumption (TEL*): compare 17.7 kWh/100 km 28.5 kWh/100 mi
Petrol/Gasoline equivalent: 1.99 l/100 km 118.3 MPGe
* TEL (Test Energy Low) indicates the lowest values (most economical) with the lightest set of options
TEH (Test Energy High) indicates the highest values (least economical) with the heaviest set of options
Dimensions and Weights
Body Type: Hatchback
Length: compare 4087 mm 160.91 in
Width: compare 1787 mm 70.35 in
Height: compare 1562 mm 61.5 in
Wheelbase: 2588 mm 101.89 in
Weight: compare 1577 kg 3477 lbs
Max Payload: 486 kg 1071 lbs
Weight Distr. Front/Rear: 59/41 %
Trunk / Boot Space: compare 338 l 11.9 ft3
Trunk / Boot Space Max: 1225 l 43.3 ft3
Frunk Space: comparedoesn't have a frunk
Max Roof Load: 75 kg 165 lbs
Ground Clearance: compare 120 mm 4.72 in
Min Turning Circle (curb-curb): compare 10.56 m 34.6 ft
Tire Standard: 195/55 R16
Seats max.: 5
Charging
AC On-Board Charger Standard: 22 kW
DC Fast Charging: compare 50 kW
DC Charge Port: CCS
Charge Port Location: Front
AC Charging Times (home, work, hotel)
Select State of Charge (SOC):
The maximum on-board charger power of the Renault Zoe R135 is 22 kW.
All figures in the table above are assumed approximate values under optimal conditions.
DC Fast Charging Times
Select State of Charge (SOC):
The maximum fast charging power of the Renault Zoe R135 is 50 kW.
All figures in the table above are assumed approximate values under optimal conditions.
Others
Dedicated EV Platform: No
Renault Zoe Pros and Cons
even basic equipment includes such features as a heat pump and LED lights

very cheap spare parts and available service

cheap insurance coefficients and associated operating expenses

unbeatably fast AC charging (for me a key buying point) - at home I charge the car from empty in just 2.5 hours - so I practically don't even need DC

it's the car with the best range and equipment to market price ratio

extremely comfortable chassis - especially on my version with 15" tires

very decent consumption: real average 11- 13 kWh in summer - 16 kWh in winter, on the highway at 130 km/h 23 kWh, and in conjunction with the large battery of 55 kWh/52 kWh), the summer range is up to 480 km, winter is around 280 - 320 km

The charging connector is in an ideal location - under the logo at the front (short DC charger cables easily reach)

it has an air-cooled engine and battery

relative to its segment, it has a deep and spacious boot

in the infotainment, it is not possible to restrict charging e.g., at 80%

the absence of lighting above the rear seats

less space in the rear seats

official impossibility of having any tow hitch

sharp rear door edge (though the door shape makes sense making it easier to get in, and the rear window can be fully lowered)

Auto high beams that work 99% of the time and great led headlights!

Great range for price 180-200 winter and 240-280 miles summer achieved

Great boot space for size of car some cars class above no better

Real buttons not touch buttons and real knobs to change heating controls not hidden in the touchscreen!

Long warranty 5 years 100,000 miles

Cheap and long service intervals 18,000 miles and about £100 for a service.

22 kw charging is great

Nice looking car

Auto handbrake

Good infotainment system

Good spec for price

Two level regenerative braking settings and a blended brake Pedal so you get all the regen you need

Good dealerships

Good build quality for price

Good discounts off rrp

Good sounds system for price and has rear speakers

Fast enough real life 0-60 speed might not look good on paper but is perfectly acceptable and got power right above National speed limit so you won't be left wanting if you get the r135 motor ! For the size of car it's good enough.

Not bad space in the rear not good for tall passengers but normal height is good for size of the car

Not bad seats not the best but good enough to do 420 miles in one day

Having to pay for arm rest ! And when you do you lose a cup holder !

As with most converted left hand drive cars into right hand drive the glove box is too small to be much use

Bit slow rapid charging speed for 2020 mid 40s in ideal conditions but you get ok speed upto 80% so 10-80% only about 50 minutes not great but we did 1050 miles in 4 days and didn't wait for the car much ! It ok manufacturers quoting max charging speed but what speed you get average is what matters !

No under bonnet Storage

Regen does not bring car to a stop only down to 5-6 mph so need to use foot break to stop the car.

No adaptive cruise control but it's not a big thing as ev as so easy to drive.
All Pros and Cons from 4 Renault Zoe Owner's reviews/test-drives
Compare the parameters of all the model variants
The technical information on this page are used from official data provided by the car companies and figures measured by our editorial staff and/or other independent persons. For further details, please visit the manufacturer's website.
If you think any of the information is wrong, please let us know.